Many studies and our customers' experience have shown that CBD can help reduce or eliminate the following problems in your pet:
ALLEVIATES or REMOVES: hyperactivity, skin allergies, hair loss;
SLOWS DOWN: itching and swelling, insect bites, age problems;
ACCELERATES: intestinal mucosa regeneration;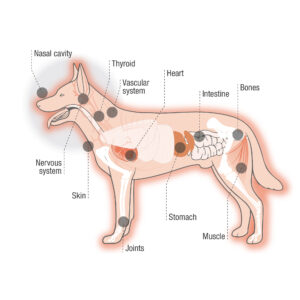 DID YOU KNOW, that dogs and cats also have an ENDOCANNABINOID SYSTEM (ECS) just like people?
This extensive and vital system is vital in keeping a healthy balance and homeostasis.
ECS is composed of receptors on different cellular membranes, that balance different processes, including the immune system, cardiovascular system, nervous and skin system, diet, sleep, relaxing, mood swings, digestion, control over motor skills and reproduction.
ECS helps with the holistic process of regeneration and balancing the organism of your pet.
ECS works in balancing the anxiety, depression, different pains, arthritis, cancer growth, blood pressure and cholesterol.
Scientific research supporting this:
www.ncbi.nlm.nih.gov/pmc/articles/PMC5800546/
http://vri.cz/docs/vetmed/61-3-111.pdf
www.americanveterinarian.com/news/endocannabinoids-in-inflammatory-cns-diseases-in-dogs

Our experts have developed a natural formula that promotes and maintains the balance of pets. The products are safe and can be used regularly with no side effects. The product was handmade from Canabis Sativa L industrial hemp grown in Slovenia.
We recommend that the droplets are added to the food or squeezed directly into the oral cavity. They can also be applied to the skin directly to treat the affected area. The dosage depends on the weight of the animal and the type of problem.
| | | |
| --- | --- | --- |
| < 10kg | | 1 - 2 |
| 10 - 20 kg | | 2 - 3 |
| > 20 kg | | 3 - 4 |