Is your pet facing any of these issues?
Dental plaque?
Bad breath?
Broken teeth?
Bleeding from mouth?
or other para-dental issues?
It is time to take action now!
Weak teeth can cause a change in kidneys, liver and heart muscle. Dental plaque turns into calculus, which results in gum bleeding and inflammation.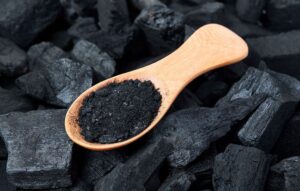 Charcoal – an ancient cure
We turned to our ancestor for this secret. They used charcoal for cleaning wounds, easing digestion problems, curing inflammation, poisoning and cleaning teeth and body. With a special technique, we activate the charcoal at 1.700°C, while the particles become more porous and expand.
Activated charcoal absorbs large quantities of substance like bacteria, smell, dirt, even dental plaque…
Did you know one teaspoon of activated charcoal has the surface of several football fields?
How to use: Add to food or
apply the charcoal directly to teeth after a meal and leave to take effect. You can apply 5 to 6 pinches with your fingers. Additional washing is not needed.
Recommended usage is 2x per day.
Warning: avoid contact with eyes. If the charcoal comes in contact with eyes, wash it out with water.
How to store: protect from dampness and direct sunlight.

Our experts have developed a natural formula that will revolutionary change the way we take care of our pet's dental health.
100% natural, organic and without additions.